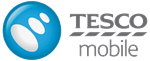 Tesco Mobile is the UK's largest mobile virtual network operator with plenty of awards for its great value deals and UK based customer care team. Operating on O2's network, Tesco Mobile covers 99% of the UK population and offers 4G at no extra charge, with a wide selection of Pay Monthly and Pay-As-You-Go deals that let you cap your bills for peace of mind. That, in addition to anytime upgrade that gives you the freedom to get a new device wherever you are in your contract. And with more than one contract on your account, you get to enjoy a selection of free perks for you and your family. Now you can save an extra £3 on your monthly bill the Xtras App when you view ads, offers and content when you unlock your Android phone. With each contract, you can choose from one of the following 3 perks: 150 extra free minutes to any network, 250mb extra free data, or 500 extra free minutes to Tesco Mobile devices.
Tesco Mobile uses O2's network to provide coverage to its customers. They are a virtual network operator (MVNO) meaning that they have an agreement with O2 to use their network space, enabling them to offer mobile plans without maintaining the infrastructure. Coverage is identical, so if you live in an area with good O2 coverage then you'll find Tesco Mobile to be equally as good with the same number of signal bars on your phone.
We have Tesco Mobile Contracts available for 43 different phones from 9 brands. To change the default handset, simply choose your brand from the drop-down list then the specific model.
Tesco Mobile SIMs are available from £7.50 per month. These are rolling monthly contracts.
---