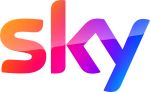 Explore a world of possibilities with Sky Mobile, the only network that lets customers roll over all their unused data, they can swap their phone each year and mix their plan whenever they like.
We have Sky Mobile Contracts available for 32 different phones from 5 brands. To change the default handset, simply choose your brand from the drop-down list then the specific model.
Sky Mobile SIMs are available from £6.00 per month. These are rolling monthly contracts.