Samsung E-series E1200 Deals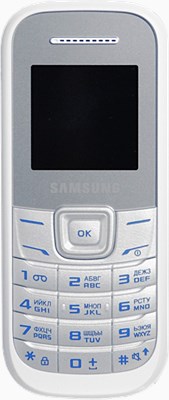 ✓ We've compared 1 Samsung E-series E1200 deals below.
First, choose your combination of colours and storage.
Tick one of each for a specific model or multiple boxes if you don't mind - e.g. Black and White along with GB.
Sim-Free (unlocked, no SIM) and Pay-as-you-go (locked, with SIM) deals can be found from £15.99 in the Sim-Free tab if wish to purchase without a contract. Some retailers allow you to spread the cost of your phone - untick the "All Upfront" payments box to see these.
Description
The E1200 is an affordable candybar style phone that's great for moaking calls and sending texts. The dust resistant keyboard and robust design make the E1200 a particularly durable mobile, and as it's compact you'll be able to stay connected anywhere.
Key Features
Operating System

Proprietary

Display Size

1.52"
Rear Camera

N/A

Front Camera

N/A
Dimensions

108 x 45 x 13.5 mm

Weight

65 grams

Sim Card Type

Standard SIM

Camera Flash

None

Talk Time

Up to 7 hours
Screen Resolution

128 x 128

Screen Type

TFT

Chipset

Info unavailable

Wi-Fi

None

Bluetooth

None
Connectivity

2G

SD Card Slot

None

Battery

Removable
Camera Resolution

None

Water Resistance

Not rated
We recommend the following:
Light use: 1-3GB
Daily use: 4-8GB
Heavy use: 12GB+
Automatic
You'll automatically receive cashback (usually via BACS) after your contract is connected.
Manual Redemption
Requires you to take some manual actions to receive e.g. Send in your 6th, 9th & 12th bill to the retailer. These deals can often be the cheapest if you're willing go through the steps.
Refurbished
Cheaper deals may be available if you're happy with a refurbished model.
Existing Customer
Some networks may be able to offer better deals if you're already a customer. e.g. you have Sky TV.
Resellers
Untick if you only want to see deals direct from the networks.
---