Samsung E-series E1200 Deals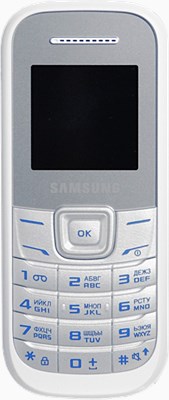 Description
The E1200 is an affordable candybar style phone that's great for moaking calls and sending texts. The dust resistant keyboard and robust design make the E1200 a particularly durable mobile, and as it's compact you'll be able to stay connected anywhere.
Key Features
Operating System

Proprietary

Chipset

Info unavailable
Display Size

1.52"

Screen Resolution

128 x 128
Dimensions

108 x 45 x 13.5 mm

Weight

65 grams

Sim Card Type

Standard SIM

Talk Time

Up to 7 hours
Screen Type

TFT

Wi-Fi

None

Bluetooth

None

Water Resistance

Not rated
Connectivity

2G

SD Card Slot

None
Battery

Removable

Camera Resolution

None
Note There are no deals currently available for this device.
---
How do I order?
After you've made your choice of colour, storage size and the plan that suits you best click the "Get Deal" button on the deal card. You'll be transferred to the retailer's or network's website where you can place your order. Please note that we are a price comparison service - your order is not placed with us, but with the retailer directly.
What if I change my mind after I order?
If your order hasn't been dispatched yet, then you may be able call the customer service number found on the retailer's site and cancel. If you've already received the phone, you have 14 days after taking delivery to request a return - even if you've opened the packaging and used it. It's equivalent to going into a phone shop and trying their display models before you buy, since you weren't able to do this beforehand having bought online. Some networks may opt to offer even longer evaluation periods to make sure you're fully satisfied with their signal coverage.
---