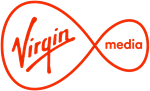 Virgin Mobile uses EE, the UK's largest mobile network, so you can enjoy clear reception almost anywhere. With freestyle contracts at no upfront cost, you can move up and down tariffs, according to what suits you each month at no additional cost, so you'll never be locked in to a tariff that's not working for you. Free voicemail and WiFi on the London Underground come included with all Virgin Media tariffs and existing Virgin Media customers get a range of discounts and additional benefits! With ther 14-day Customer Satisfaction Guarantee you can return your phone for a full refund minus any airtime you've used.
Virgin Mobile uses EE's network to provide coverage to its customers. They are a virtual network operator (MVNO) meaning that they have an agreement with EE to use their network space, enabling them to offer mobile plans without maintaining the infrastructure. Coverage is identical, so if you live in an area with good EE coverage then you'll find Virgin Mobile to be equally as good with the same number of signal bars on your phone.
We have Virgin Mobile Contracts available for 57 different phones from 11 brands. To change the default handset, simply choose your brand from the drop-down list then the specific model.
Virgin Mobile SIMs are available from £6.00 per month. These are rolling monthly contracts.
---