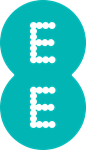 EE is here to help people get the most from their digital lives. The UK's biggest, fastest and most reliable network offers a great range of plans with incredible data allowances. Customers also benefit from a range of entertainment and sport related benefits including BT Sport. With EE, customers already get the fastest speeds in the UK with 4GEE Max plans.
We have EE Contracts and Upgrades available for 117 different phones from 16 brands. To change the default handset, simply choose your brand from the drop-down list then the specific model.
EE SIMs are available from £2.58 average per month. These are rolling monthly contracts and pay-as-you-go.
In addition, EE have SIMs suitable for Tablets, Mi-Fi devices and USB dongles from £1.00 per month. These are data-only and cannot be used in phones.
Network Benefits
Data Caps
It's easy to stay in control of your spending with alerts when you're near the end of your allowance. And it's impossible to go over your data limit thanks to the data cap. Visit website for details.
EE: 24/7 Service Support
EE: 24/7 Service Support for all customers. See website for T's&C's.
EE: Multiplan Saving
Simply add another pay monthly tablet, 4GEE WiFi or selected phone or SIM plan to your account and we'll take 10% off the additional plan every month.
EE: The Wembley App
EE's Wembley app lets you browse events, find your seat, check out the view from your seat before you even get to the stadium, and plan your travel. Plus you'll have the chance to get tickets to England football games at Wembley before they go on sale to the general public.
Free EU Roaming
EU roaming is included for free in your monthly allowance. You don't pay more to call, text or use your data when you're in Europe. Please check terms and conditions for coverage details and exclusions.
Free WiFi on the London Underground
Stay connected at over 150 stations on the London Underground with free WiFi from Virgin Media. You can check your emails, download documents, check delays and plan your journey on the TFL website, or just WhatsApp your friends.
Free casting from BT Sport App to TV
This offer from EE allows customers to cast BT Sport content from their phone to their TV, with the first three months of access to the app and casting free, no contract and inclusive data.
Free Amazon Prime Video for 6 months
Free Amazon Prime Video for 6 months with a pay monthly, 12 month SIM only or tablet plan. See website for T's&C's.
---
What type of deal do I need?
If you'd like a new phone, there are two main types of plan:
Contracts

These are meant for new customers to the network - for example if you're currently on Three but you'd like to switch to EE.

Upgrades

If you're an existing EE customer you can place an upgrade order if you wish to stay with them with no interuptions and keep the same number and SIM. You're usually able to upgrade 30-45 days before the end of your contract.
We've found that in most cases new customer contracts work out to be the best value. Don't worry about losing your number, the process for transferring is simple. It involves contacting your current network and asking for a PAC code - this is then given to your new network to port your old number to your new SIM.
Check out our Contracts Vs Upgrades guide for a full overview of the pros and cons of each.
Phone SIMs

If you're just looking to purchase an ongoing airtime bundle for the device you already own you can purchase a SIM with a 12-month or 30-day rolling contract. These are usually good value if you make use of mobile data - you'll have a set allowance per month and you can even set spend caps to make sure you're never hit with an unexpected bill.

Data SIMs

In most cases networks restrict the use of phone SIMs to only operate in your phone. While you could tether over Wi-Fi or USB, you may want a dedicated allowance for your laptop. In this case you'll need a data SIM - there a no minutes or texts allocated to it, but it will work in non-phone devices such as tablets, Mi-Fis or USB dongles.
How do I order?
After you've made your choice of colour, storage size and the plan that suits you best click the "Get Deal" button on the deal card. You'll be transferred to the retailer's or network's website where you can place your order. Please note that we are a price comparison service - your order is not placed with us, but with the retailer directly.
What if I change my mind after I order?
If your order hasn't been dispatched yet, then you may be able call the customer service number found on the retailer's site and cancel. If you've already received the phone, you have 14 days after taking delivery to request a return - even if you've opened the packaging and used it. It's equivalent to going into a phone shop and trying their display models before you buy, since you weren't able to do this beforehand having bought online. Some networks may opt to offer even longer evaluation periods to make sure you're fully satisfied with their signal coverage.
---