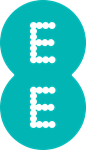 EE is here to help people get the most from their digital lives. The UK's biggest, fastest and most reliable network offers a great range of plans with incredible data allowances. Customers also benefit from a range of entertainment and sport related benefits including BT Sport. With EE, customers already get the fastest speeds in the UK with 4GEE Max plans.
We have EE Contracts and Upgrades available for 120 different phones from 19 brands. To change the default handset, simply choose your brand from the drop-down list then the specific model.
Pay as you go phones from EE can be found in the PAYG tab from £10.79 to buy outright. You'll usually have to pay an initial top-up charge of £5-10 which is included in our totals, but there are no ongoing fees.
EE SIMs are available from £2.58 average per month. These are rolling monthly contracts.
In addition, EE have SIMs suitable for Tablets, Mi-Fi devices and USB dongles from £1.00 per month. These are data-only and cannot be used in phones.
Network Benefits
Data Caps
It's easy to stay in control of your spending with alerts when you're near the end of your allowance. And it's impossible to go over your data limit thanks to the data cap. Visit website for details.
EE: 24/7 Service Support
EE: 24/7 Service Support for all customers. See website for T's&C's.
EE: Multiplan Saving
Simply add another pay monthly tablet, 4GEE WiFi or selected phone or SIM plan to your account and we'll take 10% off the additional plan every month.
EE: The Wembley App
EE's Wembley app lets you browse events, find your seat, check out the view from your seat before you even get to the stadium, and plan your travel. Plus you'll have the chance to get tickets to England football games at Wembley before they go on sale to the general public.
Free EU Roaming
EU roaming is included for free in your monthly allowance. You don't pay more to call, text or use your data when you're in Europe. Please check terms and conditions for coverage details and exclusions.
Free WiFi on the London Underground
Stay connected at over 150 stations on the London Underground with free WiFi from Virgin Media. You can check your emails, download documents, check delays and plan your journey on the TFL website, or just WhatsApp your friends.
Free casting from BT Sport App to TV
This offer from EE allows customers to cast BT Sport content from their phone to their TV, with the first three months of access to the app and casting free, no contract and inclusive data.
Data gifting service
EE allows customers to gift data amongst family members with new parental control. Customers receive 10% off every additional line and 1GB data boost for every added line to their account. Data gifts aren't carried over month-to-month. Service available on EE mobile post-pay and SIMO plan including mobile broadband tablets and select mobile broadband devices.
---