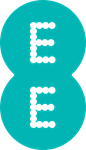 EE is here to help people get the most from their digital lives. The UK's biggest, fastest and most reliable network offers a great range of plans with incredible data allowances. Customers also benefit from a range of entertainment and sport related benefits including BT Sport. With EE, customers already get the fastest speeds in the UK with 4GEE Max plans.
We have EE Contracts and Upgrades available for 39 different phones from 9 brands. To change the default handset, simply choose your brand from the drop-down list then the specific model.
Pay as you go phones from EE can be found in the PAYG tab from £9.99 to buy outright. You'll usually have to pay an initial top-up charge of £5-10 which is included in our totals, but there are no ongoing fees.
EE SIMs are available from £10.00 per month. These are rolling monthly contracts.